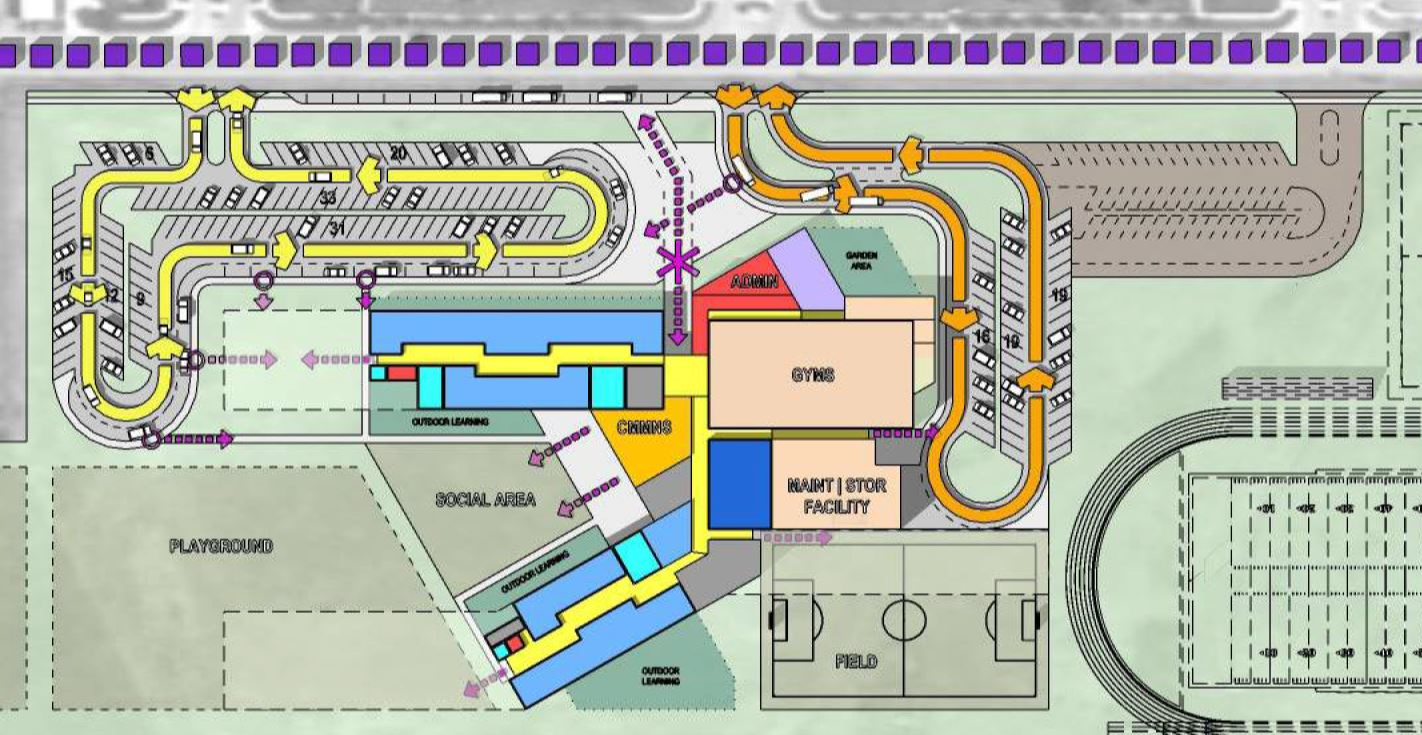 The proposed facility will...
...be efficient to operate and maintain.
...accommodate over 100 additional students.
...be a community resource for decades to come.
...be ready for bussing.
...be safe and accessible.
...be thoughtfully planned to allow for future additions if necessary.
Lolo School wants to be entirely transparent with the proposed building project; from the RFQ through opening day. You'll find that detailed information on this page, with the most recent toward the top of the page.
Permit Set for 100% CD approval submitted to Owner, GC/CM, and Permit Authority December 17, 2021

Bid Award, December 9, 2021 Precast Concrete & Structural Steel

Meeting November 4, 2021
Interior finishes, exterior finishes, and environmental graphics

Traffic Impact Study #2
TIS purchased by the Board of Trustees

Schematic Design Book UPDATED
Updated to respond to changing costs for materials. Presented at the 6/17/21 Board Meeting

Schematic Design Book for Board of Trustees
Final Proposed SD Presented at the 4/8/2021 Board Meeting

Meeting Minutes March 25, 2021
Schematic Design Committee Meeting #5

Meeting Minutes March 24, 2021
Kitchen specific focus group

Meeting Minutes March 9, 2021
Schematic Design Committee Meeting #4

Staff Update March 9, 2021
Update on Schematic Design Progress

Schematic Design Progress Update to the Board March 04, 2021
Preliminary Schematic Design presented to the board at their regular monthly meeting

Meeting Minutes February 18, 2021
Schematic Design Committee Meeting #3

Meeting Minutes February 11, 2021
Administration Focus Group

Meeting Minutes February 11, 2021
Special Education Focus Group Meeting

Meeting Minutes February 9, 2021
Library Focus Group Meeting

Meeting Minutes January 27, 2021
Schematic Design Committee Meeting #2

Meeting Minutes January 13, 2021
Schematic Design Committee Meeting #1
General Contractor/Construction Manager
Property Sale Information
Current School Under Contract for Sale As of approximately 10/7/2021

Press Release January 27, 2021
Sent to a wide variety of local media outlets


Listing Documents
The Board of Trustees approved listing documents on January 14, 2021. Price set at $4.1M


Broker/Realtor
Board selects Katie Ward & Lorainne Roach of PureWest Realty

Bond Recommendation & Ballot Language
Reqeust for Qualifications (RFQ)